What is the development lifecycle of a Medical Device?
First and foremost, the user requirements need to be defined by the organization. Based on the fact that the design and development of the Medical Device can be planned, inputs are implemented and tested, which lead to outputs. The design and development process is then verified, and if needed, some inputs can be added (related to the outputs). The whole process is validated; the CE marking must be accepted before transferring the design and development to production and commercialization. The entire lifecycle is continually controlled. Risk management must be included in the process of design and development. Critical functions, design aspects or process aspect must be identified with, for instance, a Failure Modes and Effects Analysis (FMEA).
How can we be sure that the process needs to be validated?
If a test cannot verify the process, it will have to be validated before to be used. Otherwise, if the process cannot be verified or validated, it would have to be redesigned.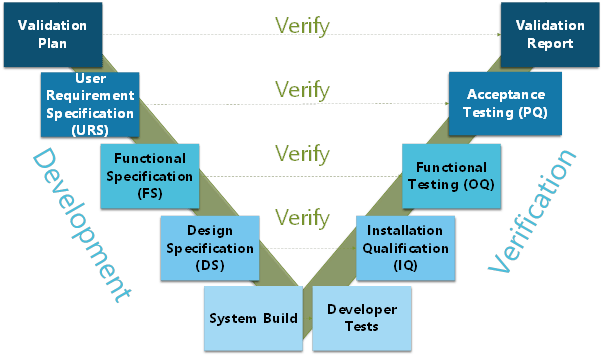 How is Software as a Medical Device validated?
A validation plan, including all the tests needed to comply with the specification, is implemented. After the system is built, tests are developed and set up. The compliance of design specification is verified by an installation qualification, functional specification by functional testing and user requirement by acceptance testing. The results of testing are referenced in the validation report, which concludes on the validation of the software.
Author: Alix Auter, Life Science Consultant KVALITO  
KVALITO is a strategic partner and global quality and compliance services and network for regulated industries. To learn more about our services, please visit us on www.kvalito.ch 
If you would like to benefit from KVALITO's expert services, feel free to send us an email to contact@kvalito.ch.
Are you looking for an exciting and challenging position as a consultant in Europe? Send your complete application to recruiting@kvalito.ch.