What is Master Data Governance?
Data Governance is a collection of processes, roles, policies, standards, and metrics that ensure the effective and efficient use of information in enabling an organization to achieve its essential part of establishing priorities and setting the company up for success over a set period of time (e.g. providing a method to measure the objectives).
Data Governance should address data ownership and accountability throughout the data life cycle (from generation and recording through processing and maintenance) and consider the design, methods, and monitoring of processes and systems to comply with the principles of data integrity, including control over intentional and unintentional changes to data.
Master Data Governance is the application of data governance to improve the management of a subset of core identifiers that are essential for running operations within a business or an organization (materials, customers, suppliers, accounting items…). 
Principles of Data Integrity & Good Documentation Practices
Data integrity (DI) is "the degree to which data are complete, consistent, accurate, trustworthy, reliable and that these characteristics of the data are maintained throughout the data life cycle." (MHRA, March 2018)
Such records (paper & electronic generated data) must comply with the ALCOA+ attributes:
A = Attributable – the person who made the documentation entry is correctly identified
L = Legible – the information is clearly readable
C = Contemporaneous – the entry is recorded at the time it is generated or acquired
O = Original –  the genuine recording of the data should be on the main record, regardless whether that record is on paper or a digital system
A = Accurate – the entry is exact, valid, and error-free
+ = Complete, Consistent, Enduring, and Available
Good Documentation Practices (GDP or GDocP) should be followed to ensure that all records comply with Data Integrity requirements.
These are the standards – enforced by the regulatory bodies worldwide (FDA, MHRA, EMA, local Health Authorities, etc.) – for documenting and managing information according to current Good Manufacturing Practices (cGMP): these latter regulations assure the proper design, monitoring, and control of manufacturing processes and facilities.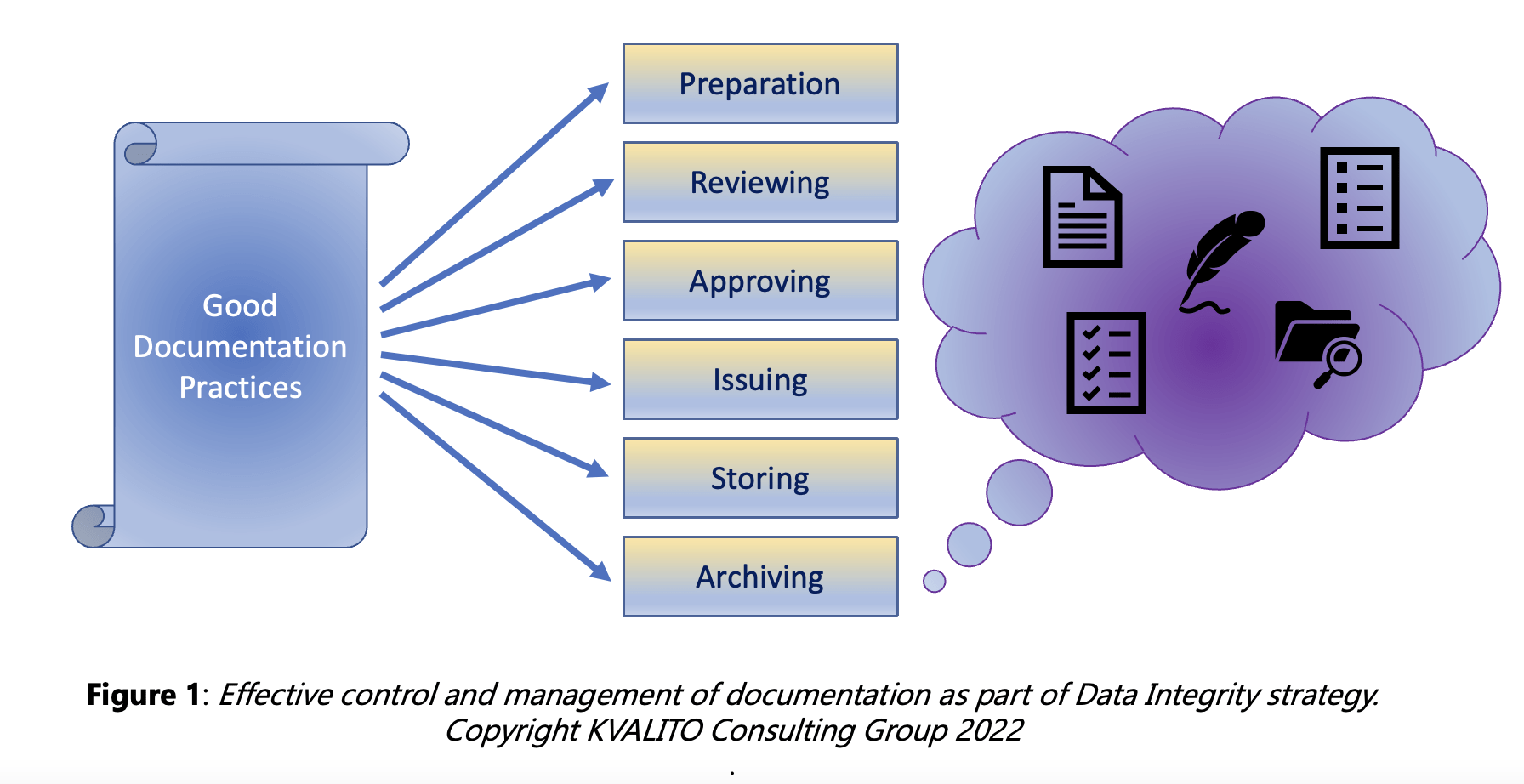 Why is Data Integrity so crucial for a company?
Data that lacks integrity is unreliable and inaccurate.
It begins and ends with a series of good and ethical choices aimed at high quality.
DI issues can be intentional (fraud, audit trail manipulation, deliberate hiding, editing or deletion of data, test re-running, no back-up) or unintentional (ignorance, improper training…).
Applying Data Integrity in all daily professional activities as well as during specific projects such as data migration:
reduces total cost of quality;
improves customer value;
ensures safety and efficacy of our products;
maintains our reputation as trustworthy and reliable;
ensures regulatory submissions are readily accepted;
avoid product delays or recalls / non-approvals.
Five main common misconceptions that might underestimate Data Integrity relevance: 
Data Integrity is not only limited to fraud or falsifications (also include employee mistakes, omissions, and transcription errors…);

 

Belief that you can trust employees to follow policies and procedures (deliberately falsify or manipulate data > management must have systems in place to control users' behaviours and review their performance for compliance with policies and procedures);

 

DI issues are not likely to happen in my company; however, they can happen everywhere and anytime. The nature of DI issues can be surprisingly serious with significant consequences (criminal prosecution, high fines and even bankruptcy).

 

Assumption that human error is the root cause of DI issues, and only re-training will be sufficient; on the contrary, the underlying causes should be properly identified to prevent and eliminate the real root causes. They can be related to missing or outdated procedures, the lack of robust validation for computer systems, unclear responsibilities within the team, etc.

 

Conviction that DI focus is new (many recent FDA or health Authorities inspections, warning letters, non-conformance findings, etc.). Actually, FDA published the first guideline in 1963.

 
Data Integrity affects all industries, including inspection of suppliers and CMOs, with a current primary focus area of Health Authorities on paper & electronic records subject to scrutiny (production, laboratory and quality systems) and any incomplete or inaccurate GxP documentation. 
A vital element of compliance is to ensure that electronic records are supported with an audit trail, where event, user, timestamp (date & time), and a required comment are logged to record any change in data. 
Scope & Challenges
Putting the patient at the heart of the solution to understand the specificities, requirements, and implications of Cell & Gene Therapy (CGT): individualised medicines with the patient's blood being used at the same time as the raw material and as the genetically modified cell product to be infused back into the body, resulting from the manufacturing process; adaptation to the local regulations in terms of labelling, release, and export. The target time is 28 days for the whole process, from the blood collection from the patient up to the delivery.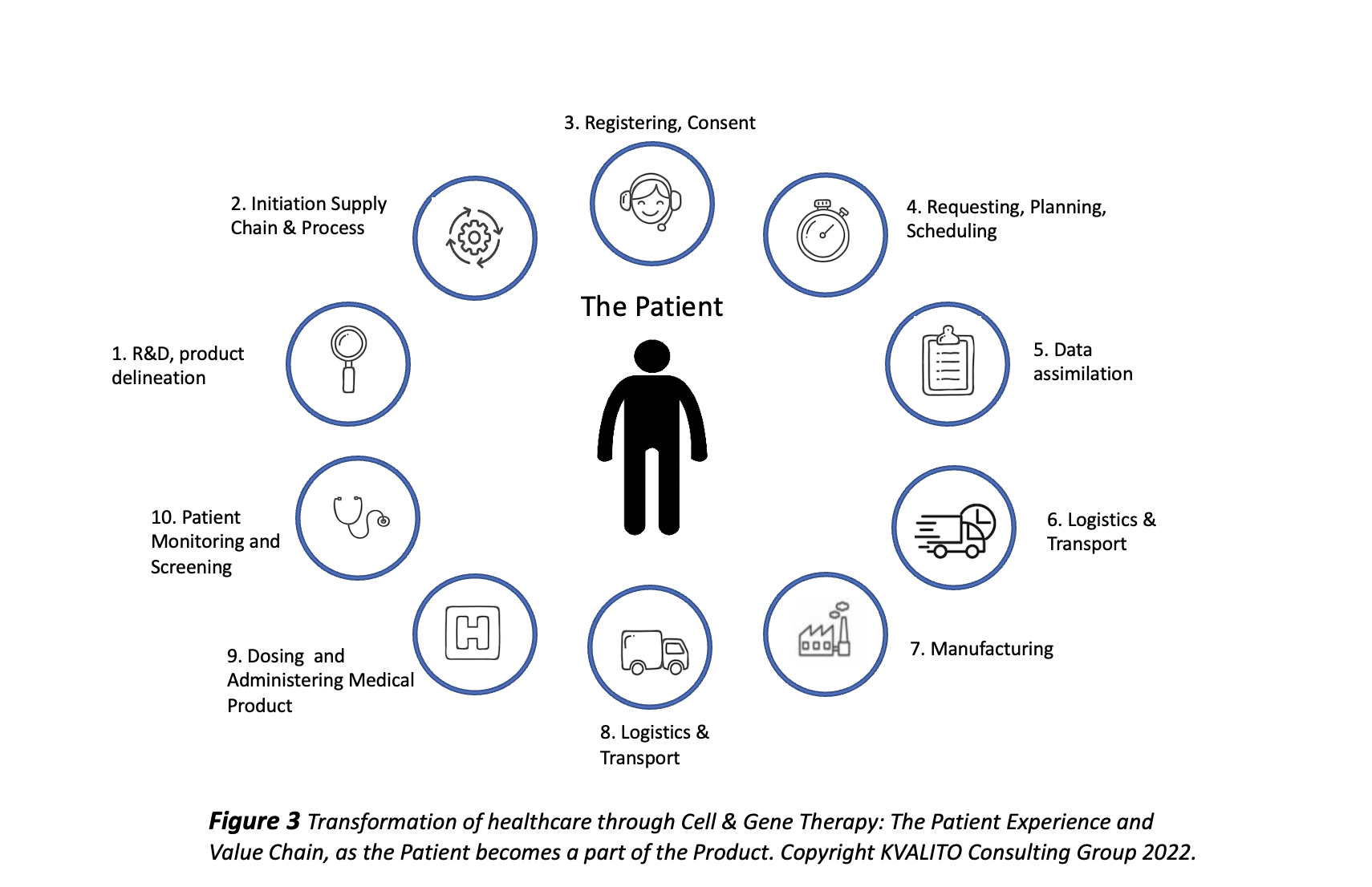 The numerous patient journey steps highlighted in Figure 3 are broken down into thousands of master data domains and subcategories to enable the order placement, pick-up of the patient's blood at the laboratory, cell processing, logistics arrangements, quality and release processes,  delivery and infusion.
A solid Master Data Governance is required to guarantee the Chain of Identity and compliant, reliable, accurate, highly qualitative entries and records in the various IT instances. Some data examples include therapies, clinical/commercial materials, customers (ordering sites, delivery places, billing entities), suppliers (apheresis laboratories, cryopreservation sites), transportation offsets, country-therapy mapping, source lists, user accounts, associations between the parties involved, country labels, output conditions…
Achieving Business Excellence by leading and taking an active part in two major CGT projects simultaneously:
Digital transformation: designing, developing & implementing a robust and complex IT orchestration platform enabling personalised CGT for improved user experience and increased system stability while maintaining Compliance through Data Integrity principles (see Business Case entitled "Transformation – Cell & Gene Therapy Platform Operations & Compliance" by Dr. K. Halbleib). In parallel, leading the data migration from the older source platform to the target one with more complex architecture (see Business Case entitled "Data Migration" by R. Alvarez Sanchez for more details about the whole concept and processes).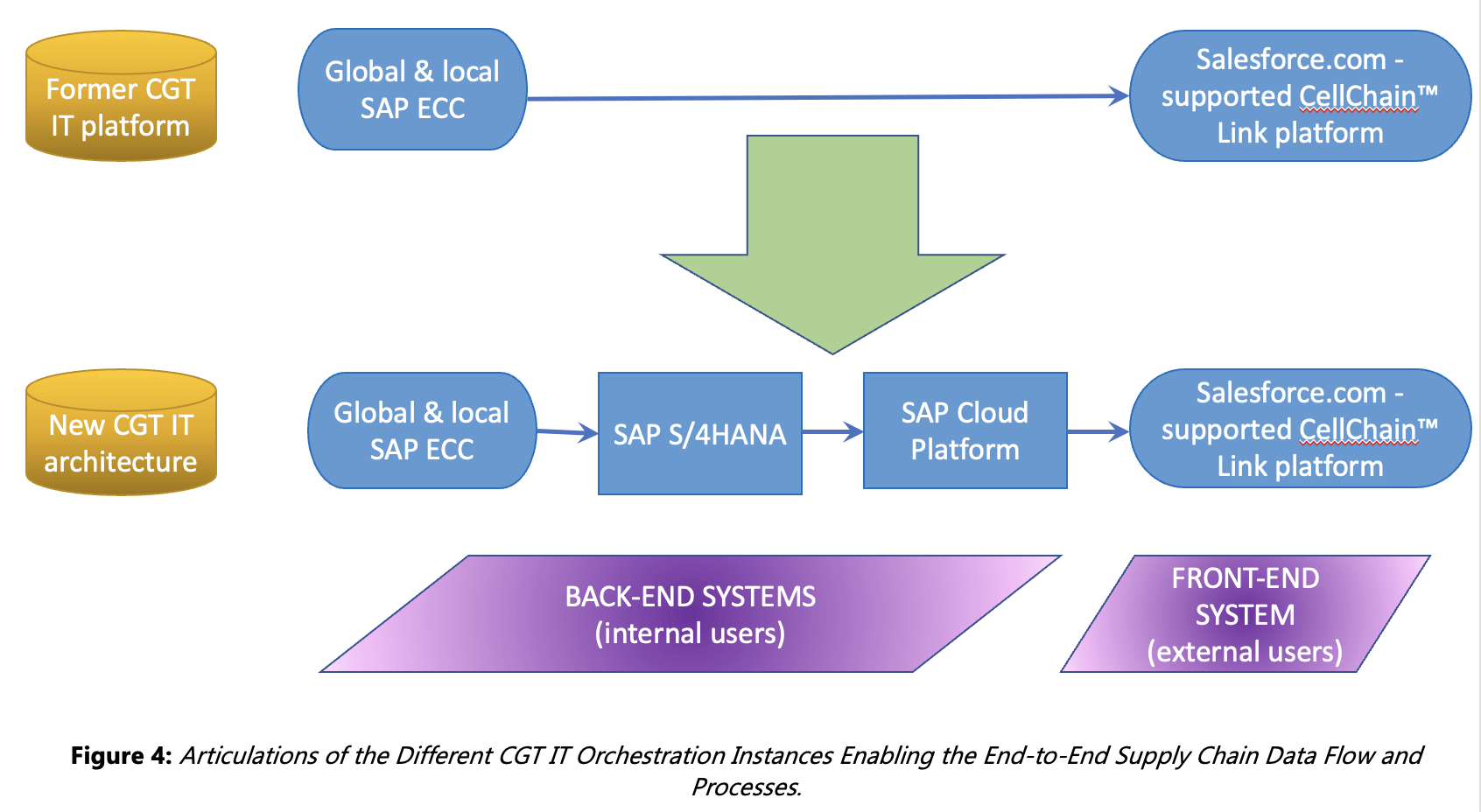 Global organisational re-modelling: transferring the complete Master Data knowledge to relocate the broad system support competencies while focusing the intensive training on compliance awareness and efficient quality assurance procedures. Also, creating an appropriate, collaborative working environment.
Operational support requires substantial knowledge of IT technology and an in-depth understanding of the respective systems and processes to ensure the data identification of the root causes/potential issues, to resolve any errors reactively and proactively.
Transparent communication was essential for key success of digital transformation project with very short deadlines (country migration split in several waves) and various interdependencies between the functions.
Quality core value with "speak up" culture, data accuracy & compliance awareness to achieve clean & reliable data, enhanced user/customer experience, and procedural improvements.
Delivering a compliance-tailored training to the new Master Data offshore team, focused on risk assessment and data accuracy, to secure the management of sensitive data and guarantee the business continuity as it is decisive for the patient that the right product is delivered in time and to the right place.
Rigorous recordkeeping of documentation is critical to ensure traceability and compliance.
What KVALITO did
From a Master Data Governance perspective, leading in a global program for Cell & Gene Therapy technology platform digital transformation with critical responsibilities in user requirements, functional refinements, MD conceptual design, user stories, data object migration, integration field mapping and validation.
Driving the organizational transition for EU region including transformation strategy roadmap, efficient change management plan creation for processes and people being offshored, goals setting, planning, intensive training, execution and operational master data knowledge transfer on time, quality-controlled and without disruption of business. Check-in progress, shadowing and hyper care phases.
Supporting the controlled business data migration from data collection and cleansing to conversion and verification, applying the Data Integrity approach, followed by the successful deployment in the different IT instances (S/4HANA, SAP Cloud Platform, salesforce.com/SFDC).
Ensuring the traceability of and adherence to the procedures in both former and new IT environments while creating the proper documentation and related training materials (SOPs, work instructions) as per Data Integrity guidelines, with clearly defined job tasks for Master Data role.
Providing the CellChain™ support for user account creation & management.
Collaborating closely with the cross-functional teams worldwide to ensure a timely and coordinated overall Global/local SAP master data management for clinical and commercial country launches, hospital onboarding and upcoming projects throughout the supply chain.
Extending and adjusting the business flows to newly integrated manufacturing plants in CellChain™ and SAP.
Playing an active role in developing and implementing CellChain™ continuous improvement opportunities.
Supporting the troubleshooting of several IT systems affecting the order management (CellChain™ and SAP), diagnosing the audit trail.
Roles, Processes and Tools
Roles played by KVALITO
Master Data Governance Subject Matter Expert
Data Integrity and Compliance Representative
CellChain™ Administrator and SAP Super User
Digital Transformation Master Data Subject Matter Expert
EU Data Migration Decision-Maker, Reviewer and Approver
Organizational Transformation European Lead
Training and Knowledge Transfer European Lead
Quality Assurance
Deviation Management Master Data Subject Matter Expert
Processes
Business Process Excellence (end-to-end clinical & commercial supply chain)
Customer Service and User Experience Excellence
Compliant Master Data creation, update, review, and coordination in different systems intricately linked to each other (materials, customers, suppliers, source lists…)
CellChain™ Link user account creation and modification
Chain of Identity (handling of confidential patients' data)
Digital technology
Organizational transformation: knowledge transfer > shadowing > hyper care phase
Business expansion with onboarding of new hospitals and integration of new manufacturing plants
Global project management
Data cleansing, conversion, verification and migration (Data Integrity)
Operational support and troubleshooting (audit trail)
Global change control management
Risk assessment
SOP (Standard Operating Procedures) review and update, training material creation
Global deviation and CAPA management
Tools and Technologies
Salesforce.com (SFDC)-supported CellChain™ Link (CCL) platform (front-end system)
SAP ECC
SAP S4/HANA
SAP Cloud Platform (SCP)
Dell Boomi
Airtable
GRC (Governance, Risk, Compliance) platform
DocNav
Agile
MS Azure
MS SharePoint
ServiceNow (SNOW) for troubleshooting
Value Delivered
Applying the innovative Cell & Gene Therapy (Chain of Identity) to enable and improve the ordering, manufacturing, and delivery of personalized treatments to adult and young patients worldwide.
Applying Data Integrity & Compliance principles to ensure qualitatively reliable and accurate migrated data when setting up the newly added IT environments (SAP S/4HANA, SAP Cloud Platform), and implementing the upgraded front-end application (CellChain™ Link).
Enhancing both internal/external user experience in the front-end system, hence distinguishing from the competition.
Facilitating prompt product & country launches globally through close communication with cross-functional teams worldwide.
Enabling manufacturing site launches, including contract manufacturers (CMOs).
Implementing the mid-term and long-term operational strategy for CellChain™ platform focusing on enhancing Supply Chain performance.
Clients / References
Novartis
Johnson & Johnson
Sources
Medicines & Healthcare products Regulatory Agency (MHRA), 'GXP' Data Integrity Guidance and Definitions (March 2018)
ECA Data Integrity trainings delivered by Concept Heidelberg in May & September 2021
Icon credits, Figure 3: