Everyone knows that women are still largely under-represented in leadership positions. But why and what is leadership at all? Does size matter? Are you a leader when you lead a team? Is there a difference between men and women? Is leadership introvert or extrovert? Is it a female or male trait? When it comes to women in leadership and who they are and what they stand for, these and other questions may circulate. We need answers. But above all, we need diverse female leader role models to get true answers to these and other questions. We need diverse female role models to inspire a broad range of women looking for success. "Lipstick Leaders" brings diverse female leaders together and gives hope to a broad range of women seeking success.
Daniel Eisenhut is connecting motived women by painting them. He is painting women with similar aspirations and is bringing them together. He shows that women in leadership are diverse and seeking success is their common thread.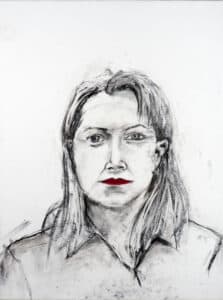 "Lipstick Leaders" brings positive energy and power.
"Lipstick Leaders" connects the past, the now and the future.
"Lipstick Leaders" encourages women to be brave, do new things and shape the future and not to wait for the future to come.
We do not really need female quotas, we need more role models to come together to inspire success on the road to becoming the best version of ourselves.
Let`s take "Lipstick Leaders", let`s connect and let`s blow it up, discuss and shape the future together for us and the next generation of women leaders.
Magdalena Kurpierz – KVALITO Group CEO is 1 of 100 painted women by Daniel Eisenhut.
You are welcome to join the Lipstick Leader premier on June 1 in Zürich, featuring Taissa Thierry Chaves, founder and president of Women in Digital Switzerland, and Helene Aercherli, editor and reporter for the magazine Annabelle.
For more information about the "Lipstick Leaders" project and registration for its launch, please visit https://www.lipstick-leaders.com