"Type designers are, at their best, the Stradivari of literature: not merely makers of saleable products, but artists who design and make the instruments that other artists use."
― Robert Bringhurst
A good webpage and marketing design can speak volumes about a company's branding.
A company can protect its logo by registering it as a trademark. Since fonts are subject to copyright laws as part of computer software/computer programmes, they are also considered intellectual property, but many of us do not realize this. As with most software programs used by a business, a font program usually comes with an end-user licensing agreement ("EULA") that specifies the user's rights. Font designers may spend years on the meticulous creation of fonts and typeface and depend on royalties to make a living, so it is essential to stay within the license terms when using fonts. Font (and software) audits can hit creative companies, healthcare companies, publishers, media companies, eBook writers, marketing and advertising professionals, bloggers, mobile app developers and packaging businesses, to name a few. Breaching the terms of a Font Licensing Agreement can bring hefty copyright infringement claims.

These are some of the typical font types that we use each day.
Examples of Font Copyright Lawsuit
Target Corporation à font infringement of Akzidenz-Grotesk in advertising and branding material, October 2017, $150,000 per infringement. https://www.natlawreview.com/article/different-type-lawsuit-ensuring-proper-use-licensed-font-programs
Volvo, an infringement of Volvo Sans, was derived from the plaintiff's typeface software under copyright protection, June 2017, $30,000 per day. https://cookcountyrecord.com/stories/511123136-berthold-says-volvo-violated-its-copyright-regarding-typeface
Microsoft à infringement of Hebrew Type Font, September 2013, $1.5 million. https://www.haaretz.com/israel-news/business/.premium-microsoft-sued-for-1-5m-over-hebrew-font-1.5336955
NBC Universal à font license infringement, July 2012, $3.5million. https://web.archive.org/web/20170720201310/http://blog.extensis.com/licensing/nbc-universal-sued-for-3-5-million-for-font-license-infringement.php
Typeface versus Font
In the typographical industry, typeface and font are distinctly defined. 'Typeface' refers to a complete set of characters with a common design ethos and is protected by copyright. In contrast, 'Font' is a part of a typeface that is further characterized by style and size and is in the form of a computer file (e.g. .otf, .ttf, .eot, .woff2, .css etc.) that instructs your computer to display a character in a certain way. Therefore, 'font' is also viewed as a software product protected by licensing agreement [1, 2].
In general, 'typeface' is the family and 'font' is a particular family member. Below is a clear example: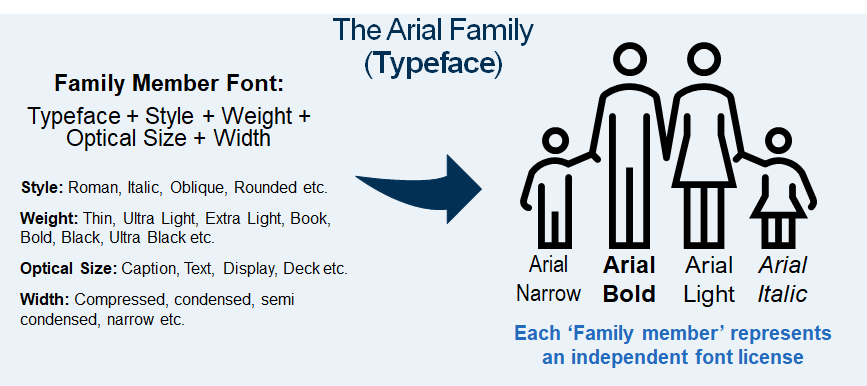 Different Types of Font Licensing Agreement
There are many free downloadable fonts on the internet for personal use, but one should be aware that Free Download is not equivalent to Free Font Licence. Font Licensing Agreement grants rights to ' font' usage in a specific manner and must be thoroughly read and understood.
If you are using a 'font' type in your Microsoft Office and/or convert the document to a PDF format for your assignment, or you are writing a blog article using the 'font' provided by the platform, you are typically safe from violating any Font Licensing Agreement. However, if you are writing with a 'font' type in your Microsoft Word and intend to publish it as a saleable e-book on a platform such as Kindle or Amazon, you may be at risk of breaching the license agreement. Commercial font use, such as on company websites and mobile applications, is generally governed by a Font Licensing Agreement and must be strictly implemented. Having sound policies and contracts in place can mitigate risk and indemnify your business against suppliers who may breach the scope of a font licensing agreement, often unwillingly.
Free Font License
If the font license falls under one of the following, it is generally free for personal, commercial and website applications:
SIL Open Font License (OFL)
GNU Free Font License
Apache License 2.0
Paid License
For font requiring a paid license often falls under an End-user License Agreement (EULA). EULA varies by font types, and the license can come in a variety of custom-made packages depending on the user's requirements. Below are the common EULA add-ons for business owners:
Web Font License – price is determined by pageview per month and is usually applicable on unlimited domain
App License – price is determined by the number of mobile app installations or other restrictions under the terms and conditions
Digital Ads License – only applicable if the web font is to be used for Digital Ads and price is determined by the number of Ad impressions
Desktop License – allows fonts usage for commercial purposes, but may be varying by different Desktop License Agreement
Also, to be noted is that Arial Narrow, Arial Black, Arial Light and Arial Italic represent four individual paid licenses. If you hold only a font license for Arial Narrow, it does not grant you the usage of other font family member. Furthermore, fonts' names may sound very similar to one another, so business owners must carefully research the font type used in their businesses to avoid font infringement. A good example would be that Volta, Volta Modern Display and Volta Modern Text comprise three individual licenses from different font vendors.
Conclusion
Font License compliance is a critical consideration for individuals and businesses everywhere. Business leaders, especially those in the healthcare sector, should also ensure that the font used in their online businesses is compliant with the Americans with Disabilities Act Standards for Accessible Design (ADA) and European Accessibility Act (EAA) regulations. These regulations provide guidelines on how a website should be accessible to people with disabilities and where font types and sizes are listed in the compliance checklist. Non-compliance with ADA or EAA will expose your business to needless legal pursuit, just as font infringement [3-5] will.
Author: Jasmine Lee, Trainee Life Science Consultant KVALITO
References:
1. Raykova, L., Fonts Licensing: The Ins and Outs of Legally Using Fonts. Inside Font Fabric.
2. Webster, G., Font vs Typeface: the ultimate guide. 2019: Creative Bloq.
3. Weekly, H. How the wrong web font can get a healthcare company sued. 2019.
4. Gevorkian, D. 6 Must-Haves of an ADA Compliant Website. 2019.
5. Standard, E., Accessibility requirements suitable for public procurement of ICT products and services in Europe, in EN 301549 V1.1.2(2015-04), E.E. Standard, Editor. 2015.
KVALITO is a strategic partner and global quality and compliance services and network for regulated industries. To learn more about our service, please visit us on www.kvalito.ch 
If you would like to benefit from KVALITO's expert services, feel free to send us an email at contact@kvalito.ch