When FDA applies more advanced technologies to its work, stakeholders can explore new ways of developing FDA-regulated products and new methods of generating data to inform the regulation of those products[i]. — FDA
In a letter[ii] to Janet Woodcock, acting commissioner of the U.S. Food and Drug Administration (FDA), the U.S. Congress (House Committee on Energy and Commerce) expressed concerns about the inspection backlog of pharmaceutical manufacturing facilities and human drug applications in July 2021. The full impact of delayed inspections on global supply chains and access to new therapies is not evident. Questions arise about the FDA's strategy to meet its obligations so that patients continue to have access to safe and effective treatments.
The COVID-19 pandemic has a pronounced impact on the FDA's inspection activities, with strict limitations on travel and safety concerns hampering FDA inspectors in attaining pre-COVID inspection volumes of close to 1000 domestic and foreign inspections of medical products per year. It remains unclear how the FDA will handle the approval of new drug applications fast, as pressure from stakeholders' grows. Further examination is required to assess if alternate tools and approaches meet statutory requirements for inspection purposes and adequately safeguard against manipulated records.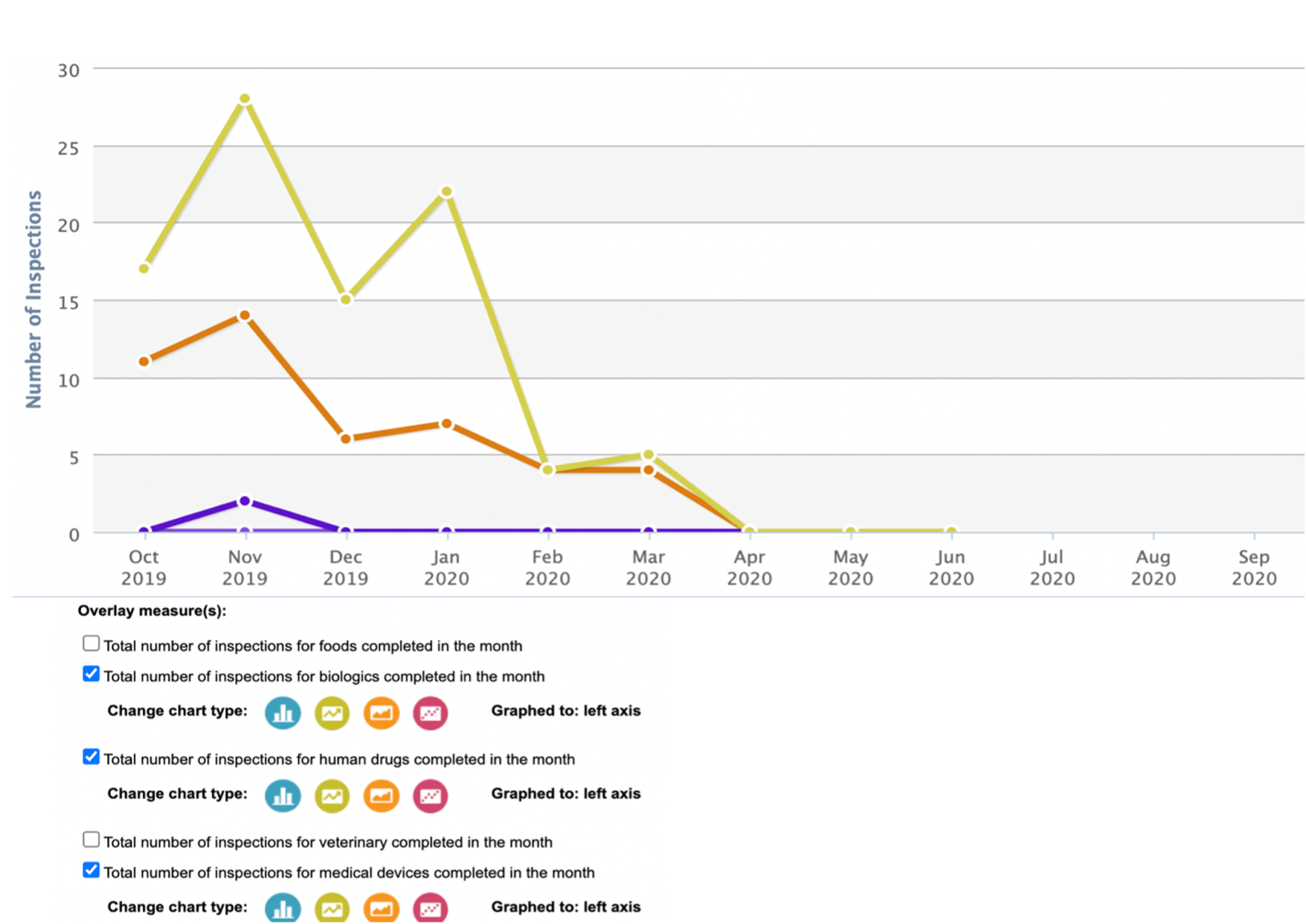 The fiscal Year 2020 [iii]
Between March 2020 and March 2021, the FDA performed 821 mission-critical inspections, 29 of those overseas. Only 49 applied to Human Medicine, whilst the majority covered bioresearch and food. [iv] One positive update is that the FDA estimated in early 2021 that the Covid-19 pandemic had delayed more than 15,000 inspections across the United States. The agency anticipated completing 26 % of the remaining human and animal medical domestic surveillance inspections. The agency recently reported a completion rate of 134%, more than doubling that figure.
Alternative Tools, New Inspection Approaches
For the fiscal year 2021, the FDA issued many warning letters and import alerts based on product samples and reviewed responses to record requests in place of traditional onsite inspections[v].
The FDA has expanded its use of alternate tools and revised its inspection approach to ensure the safety and quality of imported medication despite marked reductions in onsite inspections. These tools include Mutual Recognition Agreements (MRAs) and Confidentiality Agreements[vi] established with other regulators and authorities, testing samples, and evaluating data provided in response to records requests. Moreover, "remote interactive evaluations" have been deployed (i.e., live video streaming operations, screen sharing and teleconferencing, to support oversight activities). Products arriving at the U.S. border have come under increased physical scrutiny, and levels of sampling and testing have spiked ahead of inter-state trade.
According to the FDA, it issued 80 warning letters in FY 2021, including 43 import alerts for medical products. 58.8% were based on testing samples, 26.8% on onsite inspections, 12.5% on FDA's records analysis, and 2.5% on companies failing to provide requested records on time. 
Comparatively, in FY 2020, 97.5% of warning letters were issued following onsite inspections and only 2.5% after samples were tested. All 99 warning letters issued in FY 2019 resulted from onsite inspections. A similar trend is observed with respect to import alerts.
The FDA faces challenges with inspector shortages and burnouts resulting from the efforts being put in by existing staff. Nonetheless, the FDA's Technology Modernization Action Plan and Data Modernization Action Plan will go far in enhancing the agency's field inspection program, evaluation of inspectional approaches and the use of novel technologies to enhance data collection, review, and analysis for regulatory assessments to achieve optimal public health outcomes.
KVALITO is a strategic partner delivering global quality and compliance services to its network of regulated clients in healthcare.
KVALITO serves its clients with successful audit & assessments, remote audits, and health authority inspections globally. Visit us on www.kvalito.ch and feel free to send us an email at contact@kvalito.ch