Innovations and Sustainability in the Pharmaceutical Industry –Conference Highlights
October 24, 2023 – Nestlé Building, Prague
Step into the future of healthcare with us as we reflect on the latest HST ( Chamber of Commerce Switzerland – Czech Republic) event.
Energising Insights from Keynote Speakers: Challenges and Solutions in Achieving Improved Patient Outcomes through Personalised Medicine
The stage was set with industry luminaries, including Jörg-Michael Rupp, Erik Lundgren, Michiel Kernkamp, Pavel Solsky, Andrea Ćirlićová, Eva Krejci, and Valentina Scabia. Together, they unravelled the future of healthcare, exploring its evolution towards personalisation and sustainability.
Revolutionising Healthcare: Erik Lundgren's Take on the Three Pivotal Challenges
One of the keynote speakers Erik Lundgren led the charge, dissecting the three significant hurdles in achieving personalised medicine and the various avenues for success. A game-changer, personalised treatment options carry remarkable potential, already revolutionising healthcare and elevating patients' lives.
Cutting-Edge Solutions: Kvalito Consulting Group Explores the Role of Blockchain
As Valentina Scabia from Kvalito Consulting Group took centre stage, she shed light on the transformative power of cutting-edge technologies such as blockchain. Insights navigated the intricate landscape of pharmaceutical advances, offering innovative solutions to drive progress and enhance patient outcomes.
Sustainability Ambitions:  Novartis' Bold Plans
Andrea Ćirlićová from Novartis shed light on the company's bold ambitions for sustainability and the policies to achieve them. Sustainability is a crucial focus for the pharmaceutical industry, and Novartis is committed to positively impacting this regard.
SOTIO Biotech Spotlights Personalised Immunotherapies
Pavel Solsky of SOTIO Biotech emphasised the growing importance of personalised immunotherapies at the forefront of novel and emerging treatments. This approach tailors treatment to individual patients, making it a game-changer in healthcare.
The intersection of Innovation and Sustainability: A Thought-Provoking Dialogue
During the conference, it became evident that the challenge of determining the most suitable treatment for the individual patient was significant. The discussion highlighted the critical role of data in making these decisions. Notably, there is a distinction between patient-centric data and anonymised data used in pharmaceutical research, AI training, and interpretation. Leveraging patient-centric data for personalised treatment recommendations is a noteworthy advancement.
A Platform for Transformation
This gathering wasn't merely a meeting—it stood as a stage illuminating the future of healthcare. It united passionate minds, driving conversations on pharmaceutical innovation and sustainability. These discussions painted a vibrant vision of what lies ahead.
The dialogue touched upon the potential of personalised medicine, the transformative influence of technology, and the critical role of sustainability policies. They echoed a shared understanding: healthcare's evolution thrives on collaboration. It's a fusion of inventive concepts and sustainable methodologies, shaping a brighter future for patients globally.
Beyond the thematic discussions, the real essence was the connections forged among experts from the Czech and Swiss healthcare sectors. This collaboration exemplified the driving force behind meaningful change.
As the event drew to a close, it didn't just mark the end of discussions; it heralded the inception of a roadmap. A journey towards a healthcare future where innovation and sustainability harmonise and where patients experience a more compassionate and forward-looking healthcare approach.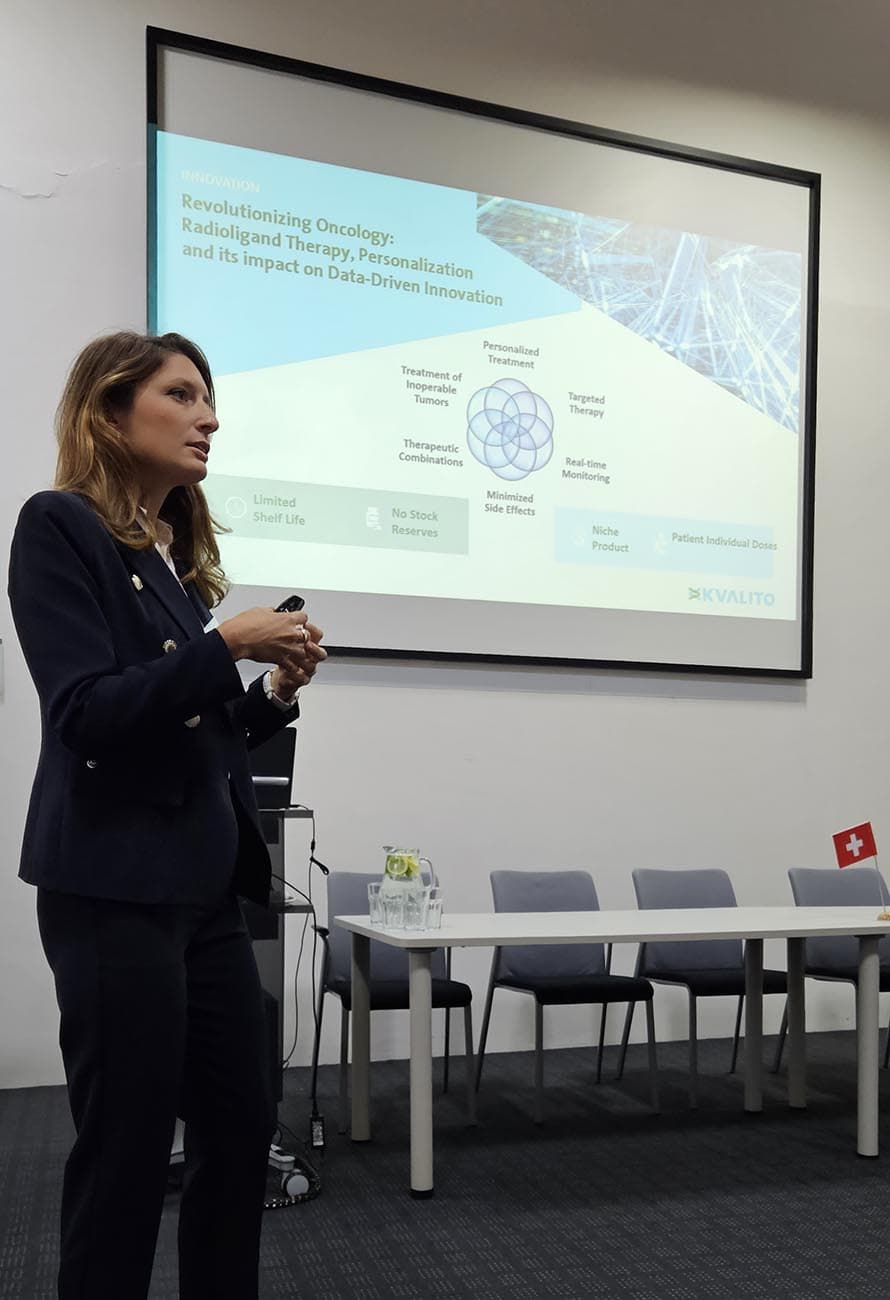 KVALITO is a strategic partner, global quality and compliance service, and network for regulated industries. To find out more, please visit us at  www.kvalito.ch. If you want to benefit from KVALITO's expert services, please email us at contact@kvalito.ch. Are you looking for an exciting and challenging position as a consultant, or are you an ambitious student/graduate looking for an internship? Please send your complete application to recruiting@kvalito.ch.