We caught up with Marco, one of KVALITO's top talents, to find out what gives him the drive and motivation to succeed as a Life Science Consultant.
With his master's degree in biomedical engineering from the University of Rome – La Sapienza and extensive training and experience as a Validation Manager and as a SaMD (Software as Medical Device) expert, Marco brings to the table a unique set of skills and motivations.
We asked Marco about his working experience at KVALITO. He stated "it has been an incredibly rewarding experience. My passion lies in science, physics and technology, so working in the Life Sciences sector at the intersection of business and IT is inspiring! I love the multidisciplinary and multicultural work environment. Here I can contribute my unique perspective and make constructive, compliant recommendations and explain the "why" behind my rationale. Marco's unique skills and motivations include continuous learning and serving multiple stakeholders seamlessly, whilst maintaining a birds-eye quality-focused perspective.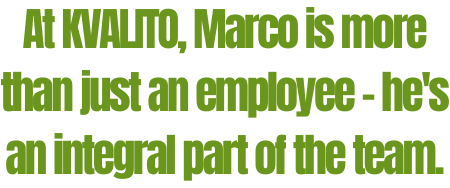 It's easy to see why Marco has been successful in his career. His drive, meticulous nature, and genuine passion for his work have undoubtedly propelled him to great heights in a relatively short timeframe. Marco is more than just an employee – he's an integral part of the team, and a true team player, constantly seeking fresh challenges and opportunities to expand his knowledge. Marco is also an effective leader and his creativity shines through at work – his innate ability to approach problems from new angles fosters innovative and impactful solutions. He has used this skill to rapidly assimilate into different roles and develop innovative solutions that help improve the lives of others.
Marco added: "My passion for volleyball has instilled in me a drive to stay on top of my game and be the best I can be, on and off the court." Marco has played for many teams including ASD Lazio in Italy and Vikings Volley Prat in Spain.
Do you have the same motivation and passion for the life sciences as Marco? If so, KVALITO is the perfect place for you! With our team of experienced professionals and comprehensive support services, you can develop your skills in an environment that fosters growth and innovation at the heart of life science. Be a part of a dynamic team that empowers you to make a difference! 💼🌱
KVALITO is a strategic partner and global quality and compliance service and network for regulated industries. To find out more, please visit us at  www.kvalito.ch. If you would like to benefit from KVALITO's expert services, please send us an email at contact@kvalito.ch. Are you looking for an exciting and challenging position as a consultant, or are you an ambitious student/graduate looking for an internship? Please send your complete application to recruiting@kvalito.ch.