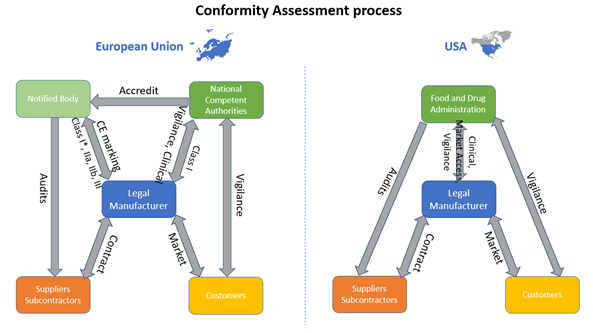 Figure 1: Comparison of European and US Conformity Assessment process of Medical Devices. Adapted from European law and United States law. Copyright 2020, Kvalito Consulting Group.
The difference in the conformity assessment process between the European Union and the USA, is the need of a notified body in the European Union. The notified body is an organization designed by a member state to assess the conformity of products against the current European regulations and directives. The legal manufacturer of the medical device must contact a Notified Body (not necessarily from his own country) in order to obtain the CE mark and place his device in the European market. The Notify Body assess the conformity of the product through the verification of all the documentation related to the product and its manufacturing environment (QMS, technical documentation…). These documents are part of the conformity assessment (see Figure 2). Only Class I devices excluding sterile, reusable or measuring device, can be the object of a self-assessment to obtain the CE mark, in which case no Notified Body is involved. In the USA, the legal manufacturer interacts directly with the FDA to gain access to the market.
What is the composition of the conformity assessment file according to European law?
The Conformity Assessment is composed of 5 elements:
A quality management system (QMS)
A post-market surveillance system
Technical documentation (General Safety and Performance Requirements (GSPR) + Risk Management + Verification and Validation (V&V) + clinical evaluation)
A declaration of conformity
A Registration of manufacturers and their medical devices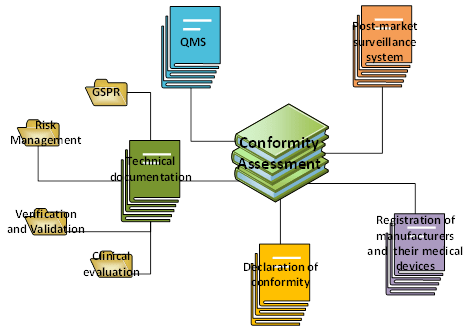 Figure 2: Composition of a Conformity Assessment file within Medical Device Regulation. Adapted from Medical Device Regulation. Copyright 2020, Kvalito Consulting Group.
Where can I find the list of all the Notified Bodies?
You can find it on the Nando list of the European Union, as follows: https://ec.europa.eu/growth/tools-databases/nando/index.cfm?fuseaction=search.main
Author: Alix Auter, Life Science Consultant, KVALITO
KVALITO is a strategic partner and global quality and compliance services and network for regulated industries.
To learn more about our services, visit us on www.kvalito.ch. If you would like to benefit from KVALITO's expert services, please send us an email at contact@kvalito.ch. Are you looking for an exciting and challenging position as a consultant? Feel free to send your complete application to recruiting@kvalito.ch.