A regulation shall be applied in its integrality in all the European Union. Unless a directive sets out an objective provided by the European Union, each country is free to develop its own measures to achieve this objective.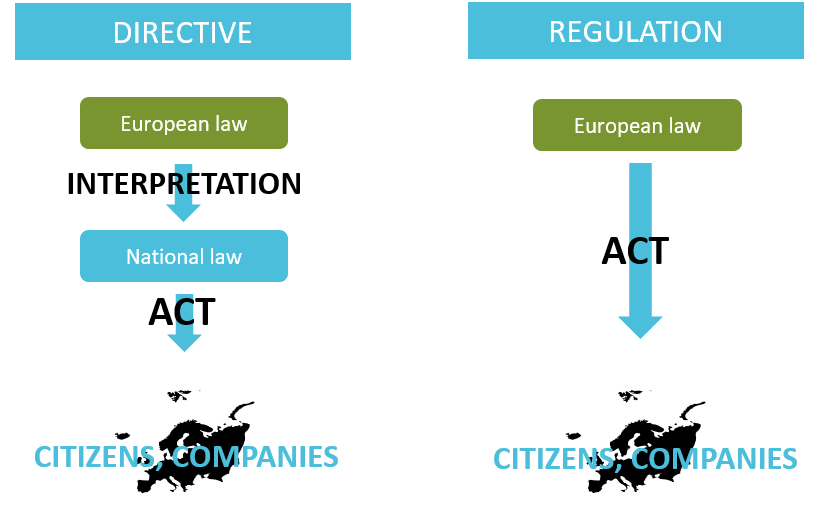 Citizens and Companies implement their policy (act) according to their National law which is an interpretation of the European law. 
What are the changes in Medical Device Regulation?
The European Parliament has replaced Medical Devices Directives (MDD, AIMD, IVDD) by Regulations (MDR and IVDR)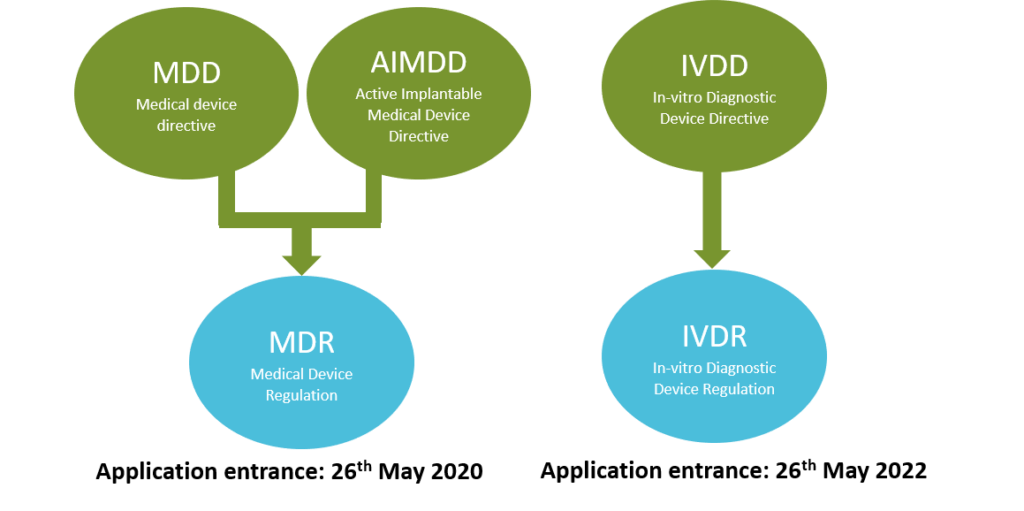 Sustained pressure from industry, a severe shortage of notified bodies and the risk of a market collapse for diagnostics during the COVID-19 pandemic led the European Commission to amend several provisions of the In Vitro Diagnostic Medical Devices Regulation affecting application dates of  some of the regulation's requirements. This would ensure that safe medical devices such as COVID and other tests continue to be available to patients and healthcare systems during the COVID pandemic.    
IVDR's 2-year transition phase was extended by 1 to 3 years:
Low-Risk Devices: transition extended until May 2027
Moderate-Risk Devices: transition extended until May 2026
High-Risk Devices: transition extended until May 2025
Note: the date of application of the IVDR came into effect on 26 May 2022 and entirely applies to  CE marked IVDs that do not necessitate the participation of a notified body. IVDR relating to vigilance and post-market surveillance applies in full to products falling in scope of the regulation, independently of whether they are affected by extended transition period.
Updated in March 2022.
Author: Alix Auter, Life-Science Consultant KVALITO
KVALITO is a strategic partner and global quality and compliance services and network for regulated industries.
To learn more about our services, visit us on www.kvalito.ch. If you would like to benefit from KVALITO's expert services, please send us an email at contact@kvalito.ch. Are you looking for an exciting and challenging position as a consultant? Feel free to send your complete application to recruiting@kvalito.ch.