"Change before you have to." —Jack Welch
A Laboratory Information Management System (LIMS) is software that allows your laboratory to manage samples and associated data effectively. Its primary purpose is to improve lab efficiency and accuracy by reducing manual operations, automating workflows and also managing sample associated information.
Most pharma companies whose laboratories perform medical analysis or other testing services require compliant systems that ensure that sample testing can be performed to an acceptable standard which ensures that all data is reliable and accurately reported.
After having chosen the appropriate LIMS vendor to your organization, the most common practice to ensure a successful implementation from a project manager perspective can be summarized into four main methods:
Success Factor 1: Regular and Transparent Communication with all Project Stakeholders
First of all, the most important success factor is to achieve full and regular communication among all team members and project managers. As obvious as it might sound, sometimes communication can be overlooked, and in this kind of projects, coordination among different stakeholders is key.
Depending on the project methodology, you choose, being Waterfall or Agile, follow-ups with more or less recurrence will need to be planned. According to what seems to work best to date, establishing at least one weekly meeting via Teams or WebEx with all team members present is usually a good exercise. Regular alignment enables the team to recognize early on any risks or challenges that the project may be facing.
In order to ensure meeting effectiveness, it is a well-known-practice to send an agenda before the meeting, including all outstanding topics. It is equally important to send meeting minutes after the discussion to avoid forgetting all reached conclusions and have a solid starting point for future discussions. Through continuous communication, you might be able to overtake budget deviations and delayed deadlines, as well as detecting and solving new problems without taking for granted the engagement of all team members.
Success Factor 2: Monitor your Project and Quality Risks
Implementing a LIMS may have different meanings for different laboratories. For example, some laboratory changes may not have a significant impact on product quality, customer or patient safety or data integrity, and therefore, no need to consider any validation practices. Other labs, commonly those in the pharmaceutical sector, may be subject to regulatory compliance and require a thorough deployment and quality assurance approach. Identifying the risks or potential failures of your LIMS can help dictate the level of activities that need to be completed during your deployment.
Do not underestimate the validation effort in a GxP regulated environment. Not everyone is familiar with Computer Software Assurance. Therefore, it is critical to define and communicate your project workflow and key milestones as well as deliverables early enough. Most of the activities are interdependent on each other, and you need to clearly define roles and responsibilities, deliverables, deadlines, and tasks as well as forecasted costs so that you can fulfil each step of the process as expected.
LIMS software assurance justifies that the computerized system functions as intended and is free of vulnerabilities. A risk-based approach requires critical thinking and provides a rational framework for developing an appropriate scope for automated testing and documentation activities, focusing on processes that have the greatest potential risk to patient safety, product quality and data integrity. Different levels of Risk Assessment related to business process justify the allocation of validation resources and can streamline your assurance needs.
Avoid underestimating any unexpected project bottlenecks. There may be risks related not only to your business process but also to your project. Project risks should be closely monitored and controlled. Apply necessary controls to reduce risks and monitor them throughout the lifecycle of the whole LIMS project.
Most common project risks can be summarized into three specific categories:
Cost risk, when the project costs more than budgeted due to poor cost estimating accuracy and scope creep. It may lead to performance risk if cost overruns lead to reductions in scope or quality to try to stay within the baseline budget.
Schedule risk, when activities take longer than planned, and dependencies and assumptions built into a schedule turns out to be inaccurate. It increases costs and delays of project benefits.
Performance risk, when the possible service or project do not deliver as much value as required, and it fails to produce the expected results consistent with project specifications.
Risk Management, therefore, requires making explicit, well-informed decisions by appropriate representatives, documenting these decisions as well as rationalizing them to keep track of all risks along with the implementation, throughout the project lifecycle and after its Go-Live.
Success Factor 3: Define Your Process Workflows and User Requirements
Sometimes the representation of the main processes can help identify all relevant elements needed before the project work begins. This previous assessment should be used to support and improve the definition of a complex environment that may not be well-scoped.
In these cases, using a SIPOC diagram or a similar process representation can help summarize the inputs and outputs of one or more processes in a simple table form. It is a great tool to clarify the upstream and downstream impacts of process improvement.
The definition of process workflows, as well as the analysis of all user requirements, will help you ensure a successful implementation after project kick-off.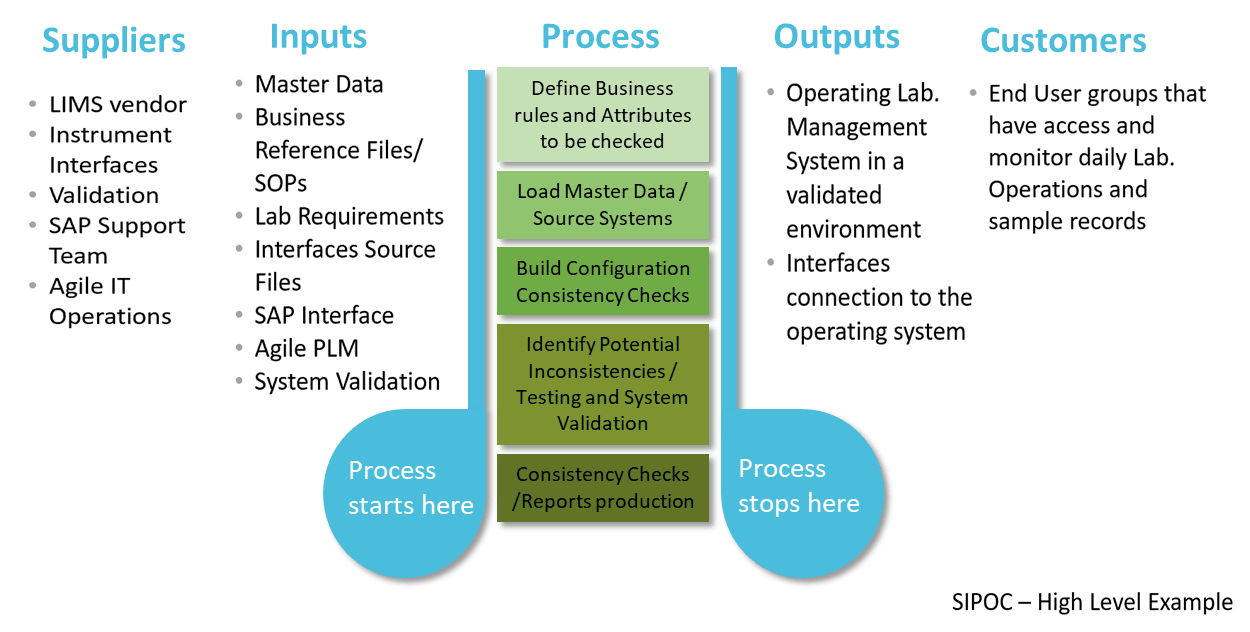 Once having analyzed what kind of laboratory requirements should be taken into account in a prior phase, it is recommended to establish a project roadmap including all specific activities, as detailed as possible, to avoid underestimating any unexpected project bottlenecks.
After the roadmap is defined, it is recommended to double-check every process step with all responsible team members to ensure that all procedures are listed, and all laboratory requirements are satisfied.
Success Factor 4: Engage your Business End-Users into the Implementation and Bring Your Leadership on Board Early Enough
End users that work in the laboratory are busy people. As much as you want them to be active contributors to your project, they are not going to, if you are not able to engage them into the process early enough. They are already filling excel sheets, and testing samples and the last thing they need is yet another meeting to extend their workday. Being a project manager implies to show and remind them all benefits that will come after it is "finally" done.
By engaging the key users early on, you can ultimately save your organization tons of time and money since they are the ones who know how the laboratory works and each specific aspect they want to improve.
However, engaging people in new deployments of new technologies across companies is not always as easy as expected. Not everyone is keen on new technology. Business culture needs to be adapted to include disruptive technologies and new processes.
Understand what must be adapted before the implementation: Automating manual processes is a cultural change of your company. Depending on the size of your company, a LIMS implementation can lead your company to a complete business process transformation. To successfully support the transformation of your company or your division or department, its associate's behaviors and way of working will have to adapt. Adapting to the new environment is easier when the purpose and the new ownership, as well as roles and responsibilities, are clear. Management and leadership must be trained to understand the transformation first in order to be able to coach and guide their teams. Leadership and Management are in charge to transfer this knowledge and communicate the importance of the LIMS implementation enabling the team to understand all business benefits so the team can profit on a more personal and individual level.
Be patient and stay focused on the change. Most likely, you will face resistance to change, and your organization may not well perceive even minor disruptions to your business operations. Using Agile and interactive methods to introduce a new way of working to your organization can make it easier to digest the change. Implement small but effective changes, Go-Live with minimum viable releases of your computerized system and introduce the change slowly to your organization. After the changes have been adopted, the benefits will appear, and the culture of your business will start adjusting to the new mindset as previously anticipated.
There is nothing so stable as change. There will always be change as your company continuously evolves and improves. Being open-minded to innovation and keeping an open mind to alternative approaches to problem-solving helps your company become deliberate and prepared for the future. Because, at the end of the day, you are the one that can build the reputation and performance of a company.
Few LIMS implementations can go wrong if stakeholders are involved, and its project manager is aware of these four key factors. Good luck!
Author: Clara Sayrol Life Science Consultant KVALITO, co-author: Alix Auter Life Science Consultant, KVALITO.
Do you need support in identifying the regulatory requirements affecting your medical analysis or testing software? Or do you want to ensure your systems are compliant and let you accurately report data and samples which meet the required standards? Or do you need help to improve lab efficiency and accuracy by reducing manual operations in compliance with the applicable regulations?
KVALITO is a strategic partner and global quality and compliance services provider and network for regulated industries. To learn more about our service, please visit us on www.kvalito.ch If you would like to benefit from KVALITO's expert services, feel free to send us an email to contact@kvalito.ch.